Magnetic gripper for handling metal
  sheets with holes
  SGM-S 40 G1/4-IG
  Diameter: 40 mm
  Socket: G1/4″-F
  Additional function: Sensor
  Holding force: 100 N
  Pressure range: 3.5 … 6.0
  Highlights
  Safe gripping by a permanent magnet.
  Compact and lightweight design.
  Easily replaceable friction ring.
  Optional side connection for tooling.
  Option to interlock two magnetic grippers (HTS…D).
  Piston control (only in series SGM-S in PNP or NPN version with IO-Link).
  Your benefits
  No electric power required.
  Minimal space requirements, low total weight.
  High shear forces can be achieved.
  Flexible mounting options.
  Optimal for oblong workpieces.
  Recognition of piston position via Hall effect sensor.
Application
  Magnetic gripper for handling of perforated metal sheets, complex laser-cut workpieces and metal sheets with holes and apertures.
  Handling of ferromagnetic workpieces.
Design
  Robust aluminum housing (2) with permanent magnet (4).
  Clip-on, easy to replace friction ring (1).
  Bistable design: the magnet settings "grip" and "release" are maintained in event of power loss.
  Standard connection threads (5) in top cover .
  Mounting threads (3) for holder systems HTS on 3 sides.
  The holder system HTS offers several options for mounting a gripper onto the gripping apparatus; HTS…D version for interlocking and mounting two grippers.
  SGM-S with piston control for sensor recognition of piston position of the magnetic gripper.
Info
| | |
| --- | --- |
| Size | 40 |
| Socket | G1/4″-F |
| Holding force max. friction ring | 100 N |
| Pressure range (operating pressure) | 3.5 … 6.0 bar |
| Add. function | Sensor PNP |
| Electrical connection | Male connect M12, 4 pol |
Technical Data
| Attribute | Value |
| --- | --- |
| Holding force max. friction ring | 100 N |
| Remaining force | 0.30 N |
| Pressure range (operating pressure) | 3.5 … 6.0 bar |
| Installation position | Any |
| Control valve | Bistable |
| Operating temperature | 5 … 70 °C |
| Weight | 255 g |
| Product family | SGM |
Design Data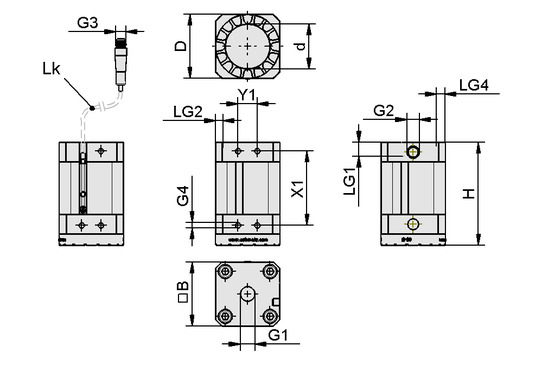 | Attribute | Value |
| --- | --- |
| B | 40.65 mm |
| D | 40 mm |
| G1 | G1/4″-F |
| G2 | G1/8″-F |
| G3 | M12x1-M |
| G4 | M4-F |
| H | 70.20 mm |
| LG1 | 11 mm |
| LG2 | 6 mm |
| LG4 | 7 mm |
| Lk | 300 mm |
| X1 | 46 mm |
| Y1 | 12 mm |
Spare Parts
Spare parts/Accessories
Friction ring
REIB-RING SGM 40 PU-55
for: Magnetic gripper
Size: 40
External diameter: 40 mm
Internal diameter: 26 mm
Proximity switch
NAEH-SCHA SMAGN-PNP S051
Type: Magn. cylind. sensor-PNP
Voltage: 15-30V DC
Holder system
HTS-A3 SGM 30/40
Cross-beam connection:
Ball head 28.5 mm
for: Magnetic gripper
Size: 30/40
Holder system
HTS-A2 D SGM 30/40
Cross-beam connection:
Bolt with slot Ø19mm
Shape: Double block
for: Magnetic gripper
Size: 30/40
Holder system
HTS-A3 D SGM 30/40
Cross-beam connection:
Ball head 28.5 mm
Shape: Double block
for: Magnetic